I got to say it-the hat is ridiculous! He looks like Curious George's friend, but no matter-the song rocks! I don't think there is a song out right now that makes you truly just "Happy," with the exception of this one.
And who didn't love seeing Meryl Streep shimmy and get down with her bad self.
All in all, I have to say Ellen rocked the Oscars. The show has been dull in past years, but Ellen was funny without being degrading. Sure she picked on Jennifer Lawrence for falling-AGAIN-but it was done in good fun.
And the pizza thing?  LOVED IT!  And for some reason I just loved hearing her call Angelina Jolie, Angie.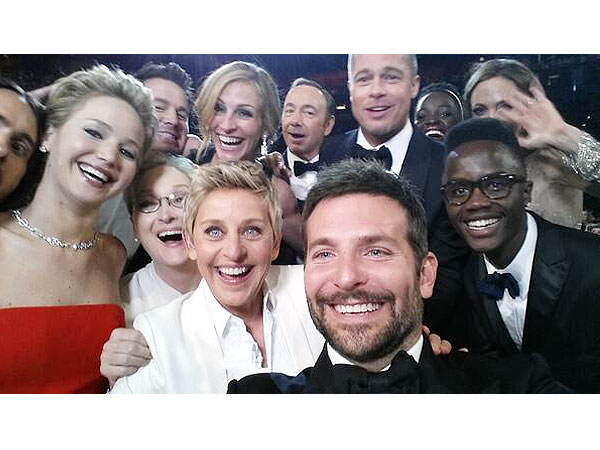 And really? Who can forget that 'selfie?' But is it really a selfie since Bradley Cooper is actually the one that took it, and there are a whole buncha people in it?  Anyways, who cares?  AWESOME! (Even more awesome than Oprah being photo bombed by Idris Elba!)
And I'll be darned if Lupita Nyong'O didn't once again look absolutely beautiful in that light blue Prada dress. Can you say princess?  Whoever is styling her, or if she's doing it herself, impeccable taste.
And Matthew McConaughey's speech! Admit it, you were half watching just to see if he could fit in his "Alright, Alright, Alright!" But all joking aside, great speech, even if I did miss it the first time around because I feel asleep and had to catch it on YouTube this morning.
Here's hoping that the Academy (whomever comprises it) realizes that Ellen is a winner as host.